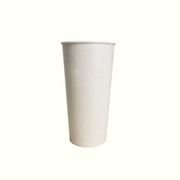 Econtainer C009 22oz Sugarcane Bagasse Cold Cup Compostable and Eco-friendly Food Packaging [50 pcs.]
Econtainer C009 22oz Sugarcane Bagasse Cold Cup Compostable and Eco-friendly Food Packaging [50 pcs.]
5-stars
Thank you for providing eco-friendly options for cafe business owners! Recommendation though, if you can find a way to balance eco-friendly materials with something that would still show the actual drink being carried (transparent lid?). I don't know if that's possible, But we'll order again! Appreciate the quick delivery too!
Product Info

Biodegradable Cold Cup 22oz

The 22oz compostable cold cup is an ideal choice for large-sized iced beverages like sodas, juices and smoothies. It may also come with a sugarcane bagasse lid with straw hole which is ideal for those who are on-the-go. They are moist and grease-resistant for easy, clean, and tidy food preparation.

Product Details:


Without Sugarcane Bagasse Lid

₱495/pack of 50

₱9.90/piece

With Sugarcane Bagasse Lid

₱660/pack of 50

₱13.20/piece

Product Features:

Sustainably made from Sugarcane Bagasse
100% Compostable within 45 days
Internationally accredited & certified food grade products
Water and Oil Resistant
Oven and Microwave safe up to 250C/450F
Freezer safe up to -15C
Why Choose Us
Econtainer's sugarcane bagasse food packaging is water and oil-resistant that it can withstand liquids for long periods of time and the material is thick enough to carry different types of food items.
These reasons alongside international accreditations and Econtainer products being safe in the oven and freezer should ease your apprehensions and boost your confidence to make the switch to eco-friendly food packaging.
learn more